Kate Spade Winter Wishlist
.
Ah kate spade new york, you know how to hit a girl's wallet where it hurts.  I admit I'd been carefully metering my wants through the fall and winter, not really loving any of the November new additions, having only a few pieces catch my eye in December, barely any in January, but February, oh, February hit me hard!  I absolutely loved kate spade Spring campaign that came out last month, featuring an amazing black and white Florence Broadhurst Japanese floral print that adorned almost all of their new arrivals.  I love that pattern.  I adore it.  I want it in everything.  Here are some of my favorite printed pieces:
.
japanese floral cameo dress – $498
Well, I love this dress in theory.  In reality, it is really really really, indecently, short.   Add that to the vaguely flared babydoll silhouette, and this dress was actually rather infantalizing.  (Check it out on the Bloomingdales model to see what I mean.)  I was hoping this would come in a longer length, like the one Deborah Lloyd herself wore to the Spring '12 presentation last fall, but no dice.
licorice pumps – $298
trey sneakers – $98
How awesome would it be to kick off the pumps above at the end of a long night and replace with a set of matching sneakers?
japanese floral beaded scarf - $198
.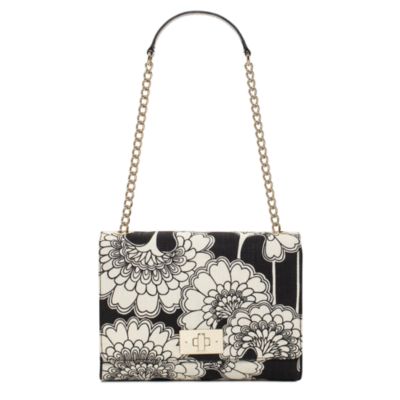 japanese floral fabric bethany – $328
.
louella skirt - $368
I may not be able to wear the japanese floral print dress, but this skirt version works just fine for me thankfully!
..
japanese floral scout – $278
japanese large floral suitcase – $1295 (medium suitcase - $828)
I've long had dreams of a matching, chic, old-fashioned luggage set, so I have been anxiously awaiting these suitcases ever since spying them in the Spring preview a few months ago.  However, I must say that I'm a little disappointed in kate spade.  The suitcases are just as beautiful as they appeared then, but they are  OUTRAGEOUSLY priced, and worse than that, shortly after they were released on the site, kate spade quickly changed their names from "suitcases" to "storage trunks," adding the disclaimer, "please note, it is designed as a decorative piece and is not intended for travel."   What?  I am not paying $1000 for a storage box, no matter how beautifully decorated!  I cannot believe that kate spade designed these at that price point and forgot to road test them for actual travel conditions.  Even the matching train case is apparently not fit for travel.  Bah.  (Also, I'm double sad that the cute little hatboxes from the Spring presentation didn't seem to make it production at all :/)
.
What about the rest of my wishlist?  As in my Anthro wishlist post, I thought I might as well share it all with you guys.  Here we go, in chronological order!
December at kate spade featured a "confetti" theme, and so we saw lots of brights and polka dots amongst the new arrivals.  I admit I found most of it rather garish, but there were two pieces that caught my eye, a fun navy and black striped skirt, and a sweet silk polka-dot dress.  Because it's been a while, both are on sale now, but I'm patiently holding out for deeper cuts:
.
haley skirt - $147 (was $245)
.
bailey dress - $237 (was $395)
.
January at kate spade was nautical themed, featuring lots of stripes, anchors, suitcases, and assorted travel motifs.  My favorite pieces were this gorgeous navy and cream striped dress (sadly already practically sold out on online, even at the somewhat crazy price), the whimsical, smile-inducing ship purse (kate spade always has the best novelty clutches!), and this little heart ring (maybe the only affordable thing I've wanted from kate spade ever).
striped adette dress - $498
all aboard ship clutch - $398
be mine mini heart ring – $48
.
The March new arrivals just hit the kate spade website today!  You should check them out — tennis and picnicking seem to be the themes, with lots of spring greens, pinks, oversized florals, rackets, tennis balls, polka dots, wicker, and bright gingham.  My favorites are the green tennis ball dress (100% cotton, which will be a relief in the summer — love my silk kate spade dresses, but sometimes a girl needs a break!), the pink and nude polka-dot melody skirt, and a little wicker clutch, which screams hot weather and picnics while still maintaining a sense of elegance and cool.
.
sonja dress – $378
Look closely — those aren't just polka dots, they're tennis balls!
.
melody skirt - $368
.
delevan terrace dolora – $268
.
What things at kate spade are you guys excited about? Did anyone get anything from this week's sample sale that just ended?  (I indulged and snapped up the bow-bedecked Matingale Sweater that was on my September wishlist in both red and black!)  Please feel free to share!
36 Comments so far
Leave a comment